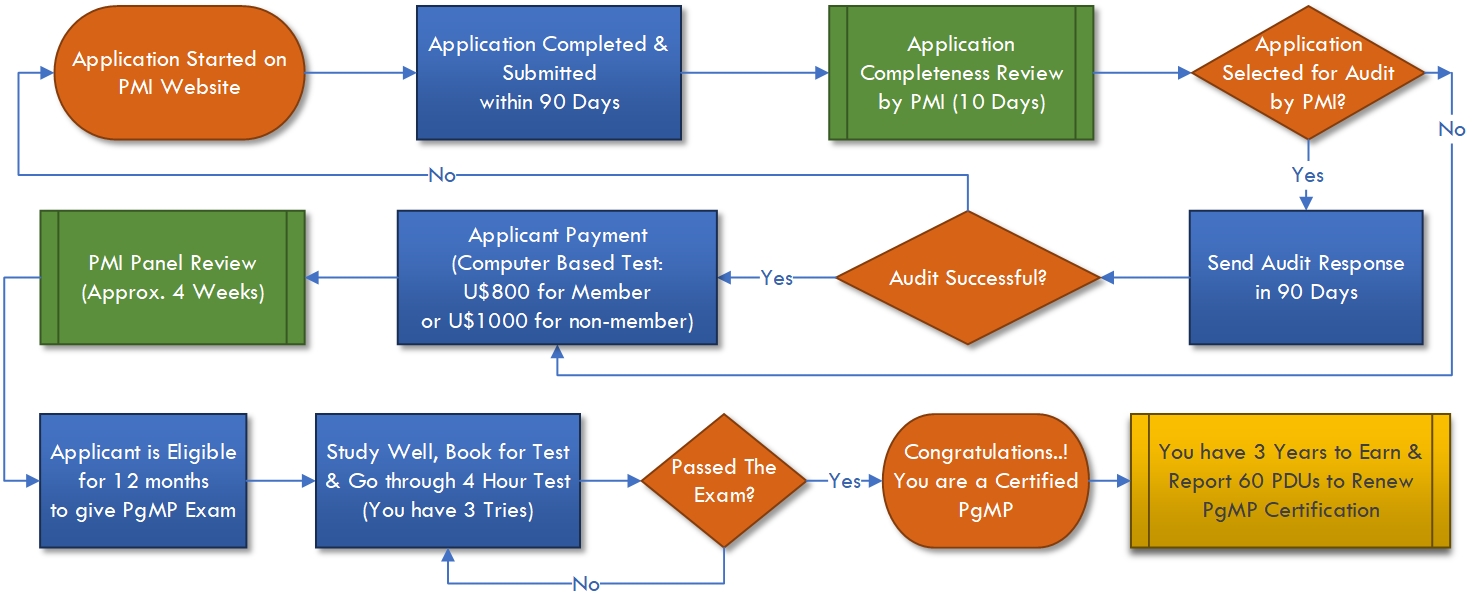 Best Ways to Get PgMP Certified
Project management has become one of the most sought-after professions of twenty-first century. Project managers around the world are looking for opportunities to learn the rules of the game which can better equip them with advanced knowledge and result in vibrant career prospects.
The importance of executing a project in a timely fashion while implementing cost control can be stressed enough. It is for this reason that project managers are giving paramount importance to acquiring certifications such as PMP, PgMP, and PfMP to hone their project management skills.
What is PgMP?
Program Management Professional (PgMP) is a credential offered by Project Management Institute (PMI). PgMP certification equips a program manager with the right skills and knowledge to advance the strategic goals of the organization. It allows senior program managers to handle multiple projects simultaneously in an organized manner.
It also gives program managers a competitive edge over numerous other program managers lacking PgMP certification, and help them secure better career opportunities.
How to earn PgMP certification?
Qualification for PgMP Credential
If you have a bachelors degree then you should have 4 years of project management experience and 4 years of program management experience. If you have a diploma certificate or equivalent then you should have 4 years of project management experience and 7 years of program management experience. Also, your program management experience must align with that of PMI's program management framework. Then only you are qualified to apply for PgMP Certification. Your qualification will be checked by PMI through application approval and multiple choice examination. Application approval includes a panel review that will assess the alignment of your program management experience to that of PMI's program management framework.
Go through the Standard of Program Management
The Project Management Institute (PMI) has put together standard for program management and also 72 tasks for the role of the program manager. Once your application is approved by PMI, they will give you eligibility ID to sit for the exam and clear it before they award you PgMP title. You must study the standard for program management thoroughly along with examination content outline in order to target the final multiple choice 4 hours full PMI exam at your preferred Pearson VUE test center. Study well, reading is not enough.
Relate the concept with actual scenarios
PgMP aspirants should thoroughly understand the artifacts, phases, and activities that are important in the successful completion of projects. The questions in the exam measure the analytical ability of candidates. Hence, while you prepare for the exam, make sure to relate the concepts with real-life scenarios. This is only possible if you have grasped the contents of the entire course clearly.
Subscribe to a good training course with mentoring support
You can think of aiming PgMP exam without going for any training and it can be done. However, PgMP is considered one of the toughest PMI exams so far and with a failure rate of over 65%, we highly recommend you to research for a good quality course that can help you become PgMP in your first attempt. At PMCerty we have maintained a 100% success rate and we are the only training provider to achieve this on PMI's toughest credentials PgMP and PfMP. You can check our home page to find references of a large number of PgMPs certified through us. Feeling the need for the PgMP success, we have carefully designed our courses with all inclusions necessary including mentoring support with some of our offerings. Check them out in Products section. We get candidates after multiple failures on PgMP, so be careful for how you prepare for PgMP. There are poor quality resources out there for you to watch out for. By the way, they all cleared in their next attempt with us.
Practice good quality difficult questions
PgMP exam is quite tough as perceived by all test takers. Which means you shouldn't prepare for PgMP exam like PMP or similar certification exams. You need good quality difficult questions to practice and uplift your comprehension, and application of knowledge gained through prior study. Don't forget to take good quality at least 2 full four-hour tests in exam conditions before your final exam.
Wish you all the best with your pursuit of PgMP Certification.
©2021 PMCerty, All rights reserved.