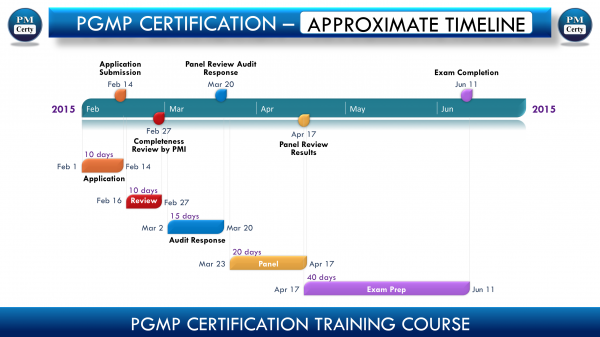 How Quickly Can PgMP Certification Be Achieved?
Let's look at how quickly can PgMP Certification be Achieved by project / program management professionals?
Well, if we take best case scenario (see illustration above), say, 10 days of Application Preparation and Submission, 45 days of overall Application Clearance by PMI (including Random Audit) and around 80 - 90 days of structured active learning for the final exam preparation, then PgMP Certification can be achieved in 4 months with ease. Note that while PMI will be working on your Application, you have already started your final exam preparation so Preparation period in Illustration above will stretch to more than 80 days.
Overall, availability and efficient usage of your time becomes deciding factor.
Generally speaking, around 250 hours of focussed and structured active learning can get you clear final exam. Which means while deciding whether to start pursuing PgMP Certification or not, you should keep in mind availability of your weekly hours and target date for the final exam. For example, if you want to achieve PgMP Certification in 4 months, you should have weekly 15 - 20 study hours available. More number of available study hours can either shorten the preparation period (to a level) or if you freeze the target date, then additional study hours spent can help you achieve better scores in exam.
Why not watch a complete PgMP Certification Overview video (full screen) on this page https://www.pmcerty.com/index.php?pid=productdetail&proid=55
And at some point when you are ready for PgMP Application, download the Application Preparation Worksheet from this page, https://www.pmcerty.com/index.php?pid=cms&slug=freeresource
Recommended approach is to collaborate with PMCerty trainers to ensure sure success on your 1st and only attempt. Professionals who procrastinated before, got started and moved swiftly just by collaborating with our trainers. Saving both time and money. For more information, visit www.PMCerty.com
---
---
---
---
---