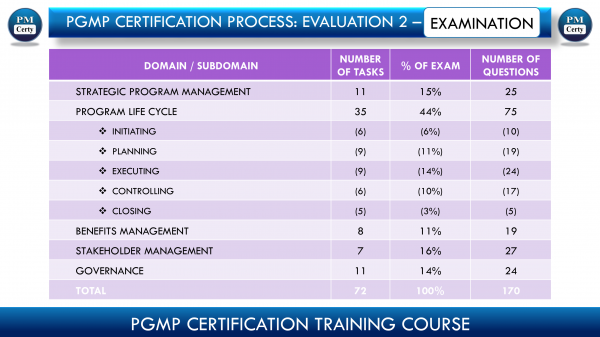 PMI's PgMP Examination Content Outline (Is it Important? And Why?)
In previous post we looked at second evaluation in PgMP (Program Management Professional) Certification Process. As you know by now, it is the last hurdle before you can get your PgMP Certification. Which is a symbol of your Program Management Qualification, accredited by PMI. If you attend Computer Based Test, you will know the results in next few minutes of your Test Completion (after a small survey). Prometric centre (where your exam will be conducted) will provide you hard copy of your results. It will show you how you performed in five program management performance domains (Below Proficient, Moderately Proficient or Proficient).
Let's take a closer look at this PgMP Final Exam (Evaluation - 2). PMI (Project Management Institute) has documented it in PgMP Examination Content Outline for what areas will be tested at what proportion in final exam. It's illustrated above.
Basically PMI methodology of program management covers five program management performance domains. These are Program Strategic Alignment (25 Questions), Program Life Cycle (75 Questions), Program Benefits Management (19 Questions), Program Stakeholder Engagement (27 Questions) and Program Governance (24 Questions). Program Life Cycle domain has its sub-phases, which are, Program Initiation (10 Qs), Program Planning (19 Qs), Program Execution (24 Qs), Program Controlling (17 Qs) and Program Closure (5 Qs). As you can see Program Life Cycle has higher weight so logically you should at least perform with moderate proficiency in this domain.
Apart from Standard for Program Management (3rd Edition), exam also tests the professional on 72 tasks that Program Manager is expected to execute across these five performance domains. These 72 tasks are also documented in PgMP Examination Content Outline (ECO) (2011 Edition). Generally speaking, it is observed that those professionals who struggle in final PgMP Exam had lost their study balance between SPM 3rd Ed and ECO 2011. Most of their study strongly focussed on SPM 3rd Ed. Considering the study of 72 plain and boring list of Program Manager tasks may not be quite encouraging or motivating. Other than that, reading over a hundred pages takes most of the focus and energy compared to reading around 13 - 15 pages. And finally, this imbalance also is inherited from previous study pattern of PMP exam prep, where not much focus was given to PMP ECO. Many PMP Certified professionals that we speak to weren't quite aware of PMI's PMP ECO publication. This also included PMP trainers.
In summary, to be successful in 1st and only attempt in PgMP Final exam, balanced and collective study is as important as focussed and through active learning. Professionals need to at least understand SPM Ed3, ECO 2011 and some fundamental concepts of PMBOK Ed5. All these contents should be synthesized through your professional experience and internalized so that each concept comes crystal clear to you.
At some point when you are ready for PgMP Application, download the Application Preparation Worksheet from this page, https://www.pmcerty.com/index.php?pid=cms&slug=freeresource
The recommended approach is to collaborate with PMCerty trainers to ensure sure success on your 1st and only attempt. Professionals who procrastinated before, got started and moved swiftly just by collaborating with our trainers. Saving both time and money. For more information, visit www.PMCerty.com
PgMP Certification Virtual Training on this page, https://www.pmcerty.com/index.php?pid=productdetail&proid=75 is best value for money, giving same results as other PMCerty training. And provides you conditional guarantee to clear PgMP Exam in 1st and only attempt.
---
---
---
---
---