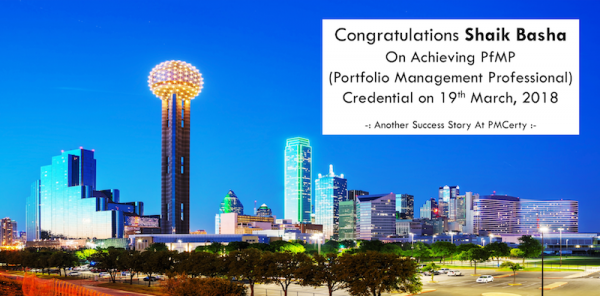 Congratulations Shaik Basha on Achieving PfMP..!
Congratulations Shaik Basha On Achieving PfMP on 19th March, 2018..!
In Just 2 Months.
Great Success Becoming Certified PfMP Using Just the PMCerty's PfMP Training and Resources.
And Achieving PfMP With All Above Targets Scores.
We are Proud of You..!
https://www.linkedin.com/pulse/congratulations-shaik-basha-achieving-pfmp-19th-march-pm-certy
Another Success Story At PMCerty.
Maintaining 100% PfMP Success Rate at PMCerty.
-: Your Certification Journey Made Easy :-
-: Once You Are With PMCerty, Success is a Sure Thing :-
---
---
---
---
---