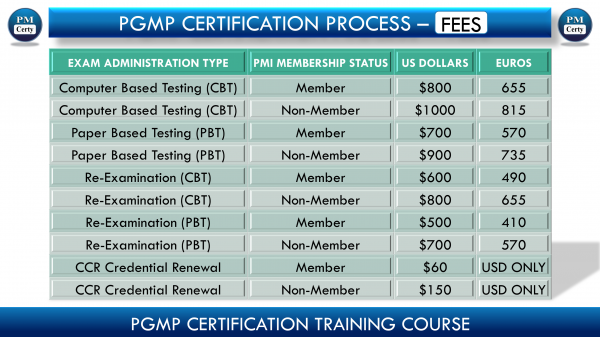 What is Minimum You Will Pay For PgMP Certification?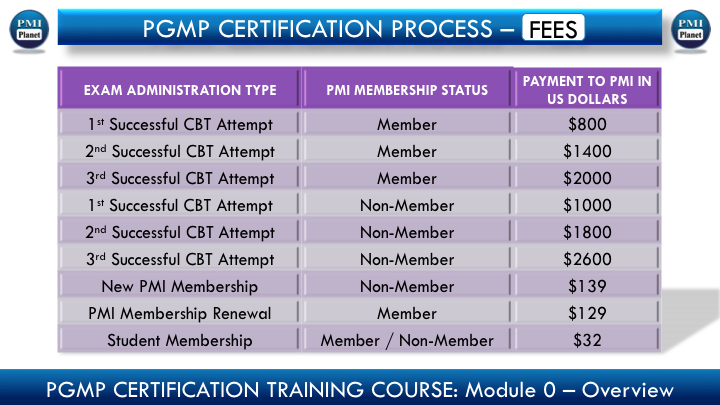 So if you are PMI Member and clear PgMP final exam in 1st attempt, you will be paying PMI 800 USD.
If you are a PMI Member, add 600 USD for each failed CBT attempt. (Remember, you have total of three allowed attempts within given year)
Membership Fee is 129 / 139 USD and difference between Member CBT Fee and Non-member CBT Fee is 200 USD. So you save at least 61 - 71 USD when you pass in 1st attempt.
If you are actively enrolled in any College/University course, then you can take advantage of Student Membership Fee. Which is 32 USD saving you at least 168 USD.
Be a PMI Member. Benefits are far beyond the fee savings.
For complete overview of PgMP Certification Process, watch video on THIS PAGE.
PgMP Training costs vary from 300 USD to 1500 USD (not including poor quality low value trainings that professionals have been complaining repeatedly).
Best trainings provide assurance, help you achieve your certification saving time, money and providing better learning experience.
In other words, Best Trainings provide you Best Value for Money Proposition.
Virtual PgMP Certification Training offered by PMCerty is best quality training offering you best value proposition. Training will cost you less than half of what you will pay to PMI and still provides you conditional guarantee to pass PgMP Exam in 1st and only attempt. Or else, you get 50% money back. No questions asked.
Check Training Schedule and information on features and extras included.
---
---
---
---
---